"Rom 15:24 Whensoever I take my journey into Spain, I will come to you: for I trust to see you in my journey, and to be brought on my way thitherward by you, if first I be somewhat filled with your [company]."-Romans 15:24-28

Hola-Hello in Spanish, I (Salvador) made this website today (Saturday, March 13th of 2004)-3 days later after the unexpected sudden unfortunate terrorist attack...
---
Recommended Resources
Bueno Nuevas

Local-GoodnewsMorris

Education

Missions

Movies

-Events



"Bienvenidos al Festival de Cine Español de 2008! Welcome to the 2008 Festival of Spanish Cinema! The first annual Spanish Film Festival is underway at the Morris Theatre through October 12.
"This Festival of Spanish Cinema is our effort to bring award-winning films from Spain to West Central Minnesota for the benefit of our students and our community members, including our ever-growing Hispanic population," said Stacey Parker Aronson, UMM associate professor of Spanish.

These films have been awarded numerous Goya Awards. The Goya Award, established in 1987 by the Academy of Arts and Cinematography of Spain, is the Spanish equivalent of the Oscar Award.

All films—in Spanish with English subtitles—will be shown on Sunday evenings at 7 p.m. at the Morris Theatre. All films are free and open to the public.

The films will include:

Sunday, Sept. 21
The Orphanage (Spain-Mexico 2007)
Directed by Juan Antonio Bayona
Winner of 2008 Goya Awards for Best New Director, Best Original Screenplay, Best Production
Supervision, Best Artistic Direction, Best Makeup and Hairstyles, Best Sound, Best Special Effects.
Rated R for some disturbing content. 105 minutes

Sunday, Sept. 28
Goya in Bordeaux (Spain-Italy 1999)

Directed by Carlos Saura Winner of Goya Awards of 2000 for Best Cinematography, Best Lead Actor, Best Artistic Direction, Best Costume Design, Best Makeup and Hairstyles. Rated R for some sexuality and violent imagery.
106 minutes

Sunday, Oct. 5
Volver (Spain 2006)
Directed by Pedro Almodóvar. Starring Penélope Cruz.
Winner of Goya Awards de 2007 for Best Picture, Best Director, Best Original Score, Best Lead Actress, Best Supporting Actress.
Rated R for some sexual content and language. 121 minutes
*saw this during UMM Homecoming with friends (UMM Alumns) that were visiting
Related Sites:
VOLVER - ALMODOVAR - PENELOPE 2006

"VOLVER a film by Almodóvar."
Volver (2006), from imdb.com
"Raimunda, her daughter Paula and her sister Sole travel from Madrid to the windy and superstitious village of Alcanfor de las Infantas to visit the grave of their mother and aunt Irene, who died years ago in a fire with her husband. Then they visit Irene's sister Paula, an old senile aunt that raised Raimunda after the death of her parents that insists to tell them that Irene is alive and living with her; later, they go to the house of her neighbor and friend Agustina, who gives a support to Paula. They return to Madrid, and after a hard day of work, Raimunda meets her daughter completely disturbed in the bus stop waiting for her. When they arrive home, Paula tells that she killed her unemployed father Paco, who was completely drunk and tried to rape her. While Raimunda is hiding his body, Sole calls her to tell that their beloved aunt Paula had died. On the next morning, Sole travels alone to the funeral, and when she returns to Madrid, she finds her mother hided in the truck of her car. She brings Irene to her apartment, where secrets from the past are disclosed..."


Sunday, Oct. 12 The Sea Inside (Spain, 2004).
Directed by Alejandro Amenábar. Starring Javier Bardem.
Winner of 2005 Oscar Award for Best Foreign Language Film.
Winner of 2005 Goya Awards for Best Picture, Best Director, Best Production Supervision, Best Original Screenplay, Best Lead Actor, Best Supporting Actor, Best New Actor, Best Lead Actress, Best Supporting Actress, Best New Actress, Best Cinematography, Best Sound, Best Musical Score, Best Makeup and Hairstyles.

Rated PG-13 for intense depiction of mature thematic material. 125 minutes.
Mar adentro (2004/, from imdb.com
"Life story of Spaniard Ramón Sampedro, who fought a 30-year campaign to win the right to end his life with dignity. Film explores Ramón's relationships with two women: Julia, a lawyer who supports his cause, and Rosa, a local woman who wants to convince him that life is worth living. Through the gift of his love, these two women are inspired to accomplish things they never previously thought possible. Despite his wish to die, Ramón taught everyone he encountered the meaning, value and preciousness of life. Though he could not move himself, he had an uncanny ability to move others. Written by Sujit R. Varma
In Spain, the former sailor Ramón Sampedro (Javier Bardem) has been quadriplegic for twenty-eight years and is fighting in court for his right of practicing euthanasia through an association that defends the freedom of choice and leaded by his friend Géne (Clara Segura). Ramón is introduced to the lawyer that is defending his cause, Julia (Belén Rueda), who has a degenerative fatal disease; and meets Rosa (Lola Dueñas), a lonely worker that has been abused by men. Their relationship changes the behavior and viewpoint of life of Rosa and Julia. Written by Claudio Carvalho, Rio de Janeiro, Brazil "
*see GoodnewsEverybody: Life-Death

This year's Festival de Cine Español was made possible with the generous support of the Program for Cultural Cooperation Between Spain's Ministry of Culture and United States Universities. It is co-sponsored by the Morris Theatre Cooperative and the Campus Activities Council Films Committee, United Latinos and the Spanish discipline, all at the University of Minnesota, Morris. "

State-GoodnewsMinnesota

Nation-GoodnewsUSA

Government


"Spain's powerful world empire of the 16th and 17th centuries ultimately yielded command of the seas to England. Subsequent failure to embrace the mercantile and industrial revolutions caused the country to fall behind Britain, France, and Germany in economic and political power. Spain remained neutral in World Wars I and II but suffered through a devastating civil war (1936-39). A peaceful transition to democracy following the death of dictator Francisco FRANCO in 1975, and rapid economic modernization (Spain joined the EU in 1986) have given Spain one of the most dynamic economies in Europe and made it a global champion of freedom. Continuing challenges include Basque Fatherland and Liberty (ETA) terrorism and relatively high unemployment."

-Capital

Travel Guide - Lisbon, Portugal


Music

"Here I Am to Worship" by Michael W. Smith (spanish subtitles)


Global-Multicultural

Churches


*connected to my local church in Morris, MN-USA

Arthur is Arrested in Madrid

"Arthur Blessitt, walking around the world with a 12-foot Cross, enters Madrid. At the time, Spain was under marshall law. He entered the city square which had thousands of Christians on site, and he began preaching. He was immediately arrested."



"...Finally, I could see the Plaza Mayor, then my foot touched the first step and I began to climb the steps toward one of the many entrances. The glory of God covered me. The air was electric with the surging crowd about me creating an almost unstoppable momentum. I now stood under the archway. There was a sea of people before me. I was now walking where, in the past, the blood of my brothers and sisters had wet the stones. I froze. Six year-old son, Joel wrapped his arms around my legs. This little boy had witnessed more miracles of God than most adults do in a lifetime.
The cross lifted up
I whispered "Lord, Jesus, may you be glorified this evening."
Then the people crushed upon us as I moved forward. Thousands of people were pushing, pulling, screaming, and fighting to touch the cross and me. All I could see was a sea of outstretched hands and weeping faces. An ear-piercing roar was heard. A few men fought to keep us from falling. I could not move the cross. The people were holding on to it, then there would be a surge and we would move forward in a wave, and then stop. This was repeated over and over, with us finally reaching the statue in the center of the Plaza. An impossible goal had become reality. As Reverend Alberto Arujo, my interpreter, and I climbed onto the base of the statue and faced the people, I lifted my hand and a welcomed silence blanketed the atmosphere. He had set up a public address system shortly before my arrival.
I lifted my index finger to the sky, "Un solo comino Jesus," I cried out.
"Un solo comino Jesus," they answered as one.
Then I began my famous Jesus cheer... give me a J! They answered back, J, E - e, S -s, U -u, S -s. JESUS!
The crowd screamed.
"I am here to speak of Jesus. "
The crowd echoed cheers throughout the Plaza.
"I want to tell you about Him. How you can know Him. And what He can do in your life as you live with Him day by day."
Alberto's translation seemed to be touched with fire as the power of the message struck at the inner soul of the crowd. Alberto was in his late 30s, tall with a thin frame and wire-rimmed glasses. He was the pastor of the largest evangelical church in Spain.
"Jesus came to die," I pointed to the cross. "For you, for me, for everyone! With His death He paid for our sins. And with his resurrection He gave us abundant eternal life. Accept Jesus into your heart. Today is the day of salvation. Confess Him as your Lord and Savior and you will be saved."
At this point, I noticed carloads of police emptying into the Plaza and approaching the cross. A rough-looking officer dressed in a dark blue suit shoved his finger into Alberto's face and ordered him to turn off the public address system. "Now go!" he ordered.
"Why must we leave?" Alberto countered. "You have no permit. You are not allowed to gather a crowd of any size in Spain without a permit."
"We do have a permit," Alberto told him. He was momentarily jolted but remained as firm as ever. "Let me see it."
The people seemed to respond with a beautiful voice that rose above the chaos. Thousands of the most beautiful voices began singing together in praise of the Lord and in defiance of anyone who would dare to stop their worship of Him. Their voices lifted up, so did their hands. Thousands were praising God. It was beautiful!"This meeting must stop," the policeman said. "But I'll call headquarters and tell them of this permit." He turned and walked toward a waiting car, roughly pushing aside anyone blocking his path.
Alberto and I stood together. The government-controlled Spanish television and newspapers had announced my arrival in advance. They had promoted my arrival. It was due to them that this very crowd the police objected to had come in the first place. A scream, saturated in agony and fear, shattered the calmness of the Plaza and signaled an abrupt halt to the singing.
Wham - the screams, which followed, began one of the most tragic and glorious events I have ever witnessed. We had just been confronted with the regular police, but now it was the feared 'civil guardia', the most loyal of Francisco Franco's storm troopers had come to do battle with men, women and children armed only with the love of God. Click, click, click - the face shields on the guard's helmets snapped into place.
The next thing I heard were bones snapping... arms and legs. The clubs came crashing down again and again upon the people as they squirmed and shivered under the blows. There was no way they could move. There was no place to go. "No!... don't!"
I saw one of the clubs flash down in a wide arch and careen off the scar-covered head of a poor old woman. She fell face down in a pool of blood. The cries of the children were horrible. "Lord, those little babies being beaten up. Protect them, protect them."
The clubs kept pouring down on the immobile Spaniards. Yet the singing picked up again, this time louder and purer than before. Then, miraculously, the civil guardia stopped their beatings and marched over to us.
"Why did you do this to us?" Alberto demanded. "The people had no chance to move. You said you would call headquarters and get a decision about our permit! " The plainclothes officer replied, "I knew nothing about the civil guardia attacking."
He then turned and in hushed tones began to speak to his comrades. Then he turned to face us once more."I have orders to clear the Plaza. Disperse now or face arrest." The fire within me burned with renewed energy and I straightened up, my hand pressing against the cross, and I answered,
"You have attacked and beaten a helpless crowd of people, including old women and children. They came in peace to listen to me speak about Jesus, as you reported in your newspapers. They had no order to leave, nor opportunity to do so. They were brutally beaten. I cannot move on. I must take my stand with them and the thousands of others whose blood has been spilled in the past years in this place. I have permission from your government to carry the cross and give my testimony. But I also have a right that is given by God and cannot be interfered with. I shall preach, Alberto, you do as you must."
When Alberto finished with the translation, the officer said, "I order you to leave." I picked up the cross and placed it on my shoulder.
A man dashed through the crowd and grabbed Joel and hollered, "I'm taking him to safety' We didn't know the man and that was the last time we saw Joel until the next day.
"Arthur," Alberto said. "I am your interpreter and that still stands." "I'm Spanish and this is my country, and I will not bow to oppression. I'm by your side," Dale Simpson said.
Dale had been walking with me all week. We all knelt in prayer. It was an awesome feeling. My mind was filled with thoughts of the others who had died here. Whether it was death that I faced, injury or imprisonment, I had to stand with the fallen. Blood had been spilled again. To leave was unthinkable. We took a few steps away from the statue. The crowd had moved back and a huge arc was formed around the Plaza by scores of policemen. Alberto, Dale and I stood alone in the center as thousands watched and waited in silence.
"Un solo comino Jesus," I cried in Spanish. "We shall not bow our knees to the will of men, but we shall move at the impulse of God's spirit, whether in death or in life. Our service is unto God. We must not be intimidated by fear. No bars can close in the truth. We are free, even in prison. Jesus said to go into the highways and preach the gospel to every person." I saw the helmeted troops moving towards us once more. "Ask Jesus into your hearts," I cried. "Give your life to Him. Do not return hate for hate, but love your enemies."
My arms were whipped behind me by several pairs of strong hands. Then it was Alberto's turn. He was preaching as loud as he could while being hurried off.
"Jesus ti amo," I kept saying to the troops as I hugged the cross. "Dios te bendigo" (God bless you)." "Let go of the cross." The Guardia tried to wrestle it from me, but my grip was one of tempered steel. I wouldn't let go. I couldn't let go. "I'll carry it to jail! I won't let go!"
I felt a club whack me in the ribs and I bent over in pain. Then my arm was clubbed and my elbows smashed in a series of blows. Again and again they clubbed me until they knocked me violently to the ground with the cross falling beside me. I tried to reach for it, if only to touch the familiar wood one more time. When would I see it again? Then my heels were jerked skyward and my body was dragged over the cobblestones. I made eye contact with the man who was twisting my leg and dragging me.
"Dios te bendigo!" I smiled, and out of surprise or conviction, he released me. Dale Simpson dashed through the fighting, unnoticed until he reached the cross. He grabbed it and lifted it up. ...
*see GoodnewsEverybody.com Movies: The Passion, Crucification, Easter, Resurrection, etc..

History

-Explorers



Columbus's early years
"...When the Turks captured Constantinople in 1453, the price of oriental trade goods had gone sky-high in Europe. There was a fortune to be made if a route to "the Indies" -- China, India, and Japan, the great civilizations of East Asia -- could be found, a route that bypassed the Muslim-controlled territories of the Middle East. Columbus devised a scheme to do just that: he would sail west across the "Ocean Sea", going the long way around the world, and arrive at China from the east. He tried to interest King John of Portugal in his plan, but the Portuguese were working on their own exploration route going down the coast of Africa, and weren't interested. So around 1486, the recently widowed Columbus left Portugal for Spain, and tried to interest the Spanish court in his "Enterprise of the Indies."...
The Columbus Landfall Homepage Just where did Columbus first see the New World?
"It's hard to believe, but after five hundred years there's still disagreement about just where Columbus first saw the new world and set foot upon its shores. It's a real-life mystery, and you are the detective. No theory is perfect, but we'll review some of the best known theories, and suggest the most likely answer. (You may be surprised.)..
Columbus and the Destruction of Native peoples Note: As with everything else on this site, these are my own opinions. Feel free to disagree with them.
"The first and most important thing to understand is that the Native American population on Hispaniola (and later, Cuba) was destroyed over the course of a century or less, and that the Spanish were primarily responsible for this. Certainly Columbus was not a perfect person by any means, and was a man of many flaws. But neither was he a genocidal mass murderer. The destruction of these peoples is a historical tragedy, but this complex episode deserves more study than simply assigning blame.
Columbus initially had friendly relations with the Native Americans he encountered in the West Indies on the first voyage. Beginning with the second voyage, these relations began to sour, with some tribes more than others. The Spanish had come to America as conquerors. In 1492, they had just successfully finished a centuries-long war to evict the Moors from Spain, and the idea of spreading Christianity (in general) and Spanish control (in particular) was central to Spanish culture. The idea that one could arrive at a new country with no strong central government, and not claim such lands for the sovereigns one had sworn to support and defend, was simply unthinkable. It would be like expecting a 21st-century American to renounce democracy or free enterprise. Although Columbus was born in Genoa, by 1492 he had been in Spain for about seven years, and was in effect a Spanish citizen. Further, Columbus was devoutly Christian, perhaps even more so than most Spaniards of his day.
Therefore it is completely unsurprising that war soon broke out between the Spanish settlers on Hispaniola and some of the Native American tribes there; in fact, it is probably more surprising that war did not break out with all the tribes on the island, and that some of them accepted Spanish rule (and Christianity) without a fight. This warfare began in 1494, and continued sporadically for another decade or so.
Some people have tried to blame Columbus personally for this warfare. To me, this is a bit like personally blaming Abraham Lincoln for the Civil War. The causes of war are often large social forces, usually beyond the control of any individual. I believe that is true in this case. And it is also true that Columbus personally killed some Native Americans during this war (although thousands, and perhaps even hundreds, would be a gross exaggeration). But most people in most societies (including Native American societies) view killing in wartime as acceptable; few would claim that it is morally equivalent to murder, much less genocide. ...
Christopher Columbus From Wikipedia, the free encyclopedia
"Later Life
While Columbus had always given the conversion of non-believers as one reason for his explorations, he grew increasingly religious in his later years. He claimed to hear divine voices, lobbied for a new crusade to capture Jerusalem, often wore Franciscan habit, and described his explorations to the "paradise" as part of God's plan which would soon result in the Last Judgment and the end of the world..
*see GoodnewsEverybody.com Latino of Latin American Outreach

"Ferdinand Magellan (1480-1521) was a Portuguese explorer who led the first expedition that sailed around the Earth (1519-1522). Magellan also named the Pacific Ocean (the name means that it is a calm, peaceful ocean).
Magellan was born in Northern Portugal (either in Sabrosa or in Oporto). His parents, Pedro Ruy de Magalhaes and Alda de Mezquita, were members of the nobility (they were wealthy and powerful).
Early in his career, Magellan sailed to India and to the Far East many times via Africa's Cape of Good Hope. He sailed for his native Portugal, but a dispute with the Portuguese King Manoel II turned him against the Portuguese. Thereafter, he sailed for Spain.
Magellan and his friend the astronomer Ruy de Falero proposed to King Charles V (of Spain) that a westward voyage around the tip of South America would take them to the Moluccas (spice-rich islands) and avoid the Portuguese (with whom they were competing fiercely). The voyage began September 8, 1519, and lasted until September 6, 1522 (almost 3 years). Magellan sailed from Seville, Spain, with five ships, the Trinidad, San Antonio, Concepcion, Victoria, and Santiago. Three years later, only one ship (the Victoria) made it back to Seville, carrying only 18 of the original 270 crew members. Magellan was killed towards the end of the voyage, on the Island of Mactan in the Philippines, during a battle with the natives. The Basque navigator Juan Sebastián de Elcano (del Cano) completed the trip. ....
Ferdinand Magellan From Wikipedia, the free encyclopedia
"...Ferdinand Magellan was born about the year 1480 - we do not know the precise date - at Sabrosa, near Chaves, in the province of Tras-os-Montes, one of the wildest districts of Portugal [1]. However, he subsequently obtained Spanish nationality in order to serve the Spanish Crown, so that he could try to find a westward route to the Spice Islands of Indonesia. He thereby became the first person to lead an expedition across the Pacific Ocean. This was also the first successful attempt to circumnavigate the Earth. Although he did not complete the entire voyage (he was killed during the Battle of Mactan in the Philippines), Magellan had earlier traveled eastward to the Spice Islands, so he became one of the first individuals to cross all of the meridians of the Globe.
Magellan was the first European to enter the Pacific from the eponymous Strait of Magellan, which he discovered. He was also the first European to reach the archipelago of what is now known as the Philippines, which was unknown to the western world before his landing. Arab traders had established commerce within the archipelago centuries earlier...
Death
Monument in Lapu-Lapu City, Cebu, Philippines that marks the site where Magellan was believed to be killed.
Heading northwest, the crew reached the equator on February 13, 1521. On March 6, they reached the Marianas and Guam. Magellan called Guam the "Island of Sails" because they saw a lot of sailboats. They renamed it to "Ladrones Island" (Island of Thieves) because many of Trinidad's small boats were stolen there. On March 16, Magellan reached the island of Homonhon in the Philippines, with 150 crew left, and became the first European to reach the Philippines.
Magellan was able to communicate with the native peoples because his Malay interpreter, Enrique, could understand their language. Enrique was indentured by Magellan in 1511 right after the sacking of Malacca, and was at his side during the battles in Africa, during Magellan's disgrace at the King's court in Portugal, and during Magellan's successful raising of a fleet. They traded gifts with Rajah Siaiu of Mazaua[9] who guided them to Cebu on April 7.
Rajah Humabon of Cebu was friendly towards Magellan, and the Spaniards; both he and his queen Juana were baptized as Christians. Afterward, Rajah Humabon and his ally Datu Zula convinced Magellan to kill their enemy, Rajah Lapu-Lapu, on Mactan. Magellan had wished to convert Lapu-Lapu to Christianity, as he had Rajah Humabon, a proposal to which Lapu-Lapu was dismissive. On the morning of April 27, 1521, Magellan sailed to Mactan with an army of men. During the resulting Battle of Mactan against native forces led by Lapu-Lapu, Magellan was shot by a poisonous arrow and later surrounded and finished off with spears and other weapons."
*see GoodnewsEverybody.com Asian-Filipino, Pinoy/Pinay, Balikbayan, etc.. of Philippines

Map

Media-News


"The war began after American demands that Spain peacefully resolve the Cuban fight for independence were rejected, though strong expansionist sentiment in the United States may have motivated the government to target Spain's remaining overseas territories: Cuba, Puerto Rico, the Philippines, Guam and the Caroline Islands.[1]"

Miscellaneous


"..Roman settlers strongly influenced Portuguese culture, particularly the Portuguese language, mostly derived from Latin. In the 5th century, after the fall of the Roman empire, it was occupied by several Germanic peoples, mainly the Suevi and the Visigoths. In the early 8th century Muslim Moors conquered those Christian kingdoms, occupying most of the Iberian Peninsula.
During the Christian Reconquista (Reconquering), the County of Portugal was settled, as part of the Kingdom of Galicia. With the establishment of the Kingdom recognized in 1143 and the stabilization of its borders by 1249, Portugal claims to be the oldest European nation-state.[6] In the 15th and 16th centuries, as the result of maritime exploration, Portugal established a global empire that included possessions in Africa, Asia and South America, becoming the world's major economic, political and military power. Portugal´s Empire was the first,[7][8][9] and most long-lived Global Empire in the world. In 1580, after a succession crisis it was united with Spain for a period called the Iberian Union; however in 1640 it re-established full independence during the Portuguese Restoration War that resulted in the establishment of a new dynasty and a return to the previous separation between the two empires.....

'Spain, originally inhabited by Celts, Iberians, and Basques, became a part of the Roman Empire in 206 B.C., when it was conquered by Scipio Africanus. In A.D. 412, the barbarian Visigothic leader Ataulf crossed the Pyrenees and ruled Spain, first in the name of the Roman emperor and then independently. In 711, the Muslims under Tariq entered Spain from Africa and within a few years completed the subjugation of the country..."

"Spain is a constitutional monarchy organised as a parliamentary democracy, and has been a member of the European Union since 1986. It is a developed country with the ninth largest economy in the world and fifth largest in the EU.[3]"


*see Bible

HighTower Missions

"A missionary documents his experiences while doing work in Spain."




"Scary Glares and More Line Dancing"


Music

I blame you (Legenda em Português)

"Tema: maus-tratos"

-Worship
Worship - Jesus Messiah by Chris Tomlin - Igreja Baptista de Ponta Delgada


Prayer

Resources

Sports

-Olympics
Olympic Barcelona 1992 Opening Ceremony - Flaming Arrow`

"Barcelona 1992, Opening Ceremony. The Archer Antonio Rebollo Prepares to Light the Bowl With the Olympic Flame"


"There were yellow cards galore and more than a few fluffed chances. Until finally – finally – with the Dutch down to 10 men after Johnny Heitinga was sent off, Andres Iniesta received a pass from Cesc Fabregas in the 116th minute, took one touch and then bam, struck the bouncing ball past Maarten Stekelenburg in the Dutch goal. 1-0 to Spain, who are now World Cup winners. "

Netherlands 0-1 Spain

Simão | MySpace Video


Travel



"Spain can be enjoyable any time of year. The ideal months to visit are May, June and September (plus April and October in the south). At these times you can rely on good-to-excellent weather, yet avoid the extreme heat - and the main crush of Spanish and foreign tourists - of July and August. "

-Attractions:
"Running of the Bulls" in Pamplona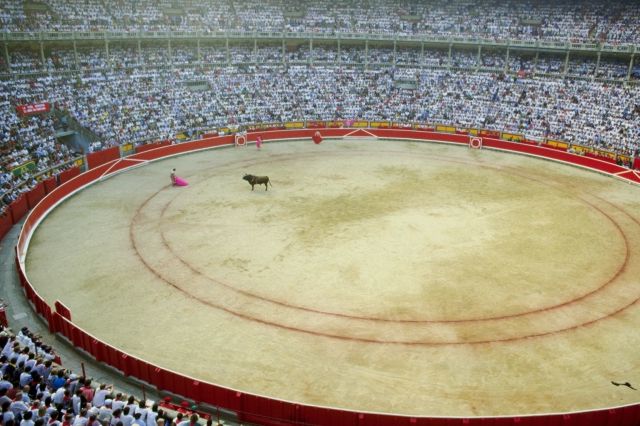 Running of the Bulls - Pamplona, Spain

" The brave & crazy run with the bulls in Pamplona"
---
Spain juts out geographically from the south western part of the European continent. When I think of Spain, I autmatically think about their pre-colnialization era when they took over my parent's homeland-Philippines with Magellan.
As I search the internet, I was able to find many evidence of our ancestors in this nation. For example...
Thank you for visiting GoodnewsEverybody! Please feel free to e-mail me (Sal) at info@goodnewseverybody.com on any comments, suggestions (e.g. any new websites),complaints, or anytype of feedback to improve this website.



seekfind.org


*"...Seek and You'll Find..."- Matthew 7:7
---
Return to GoodnewsEverybody: European Homepage