"And when it was determined that we should sail into Italy, they delivered Paul and certain other prisoners unto [one] named Julius, a centurion of Augustus' band."-Acts 27:1
---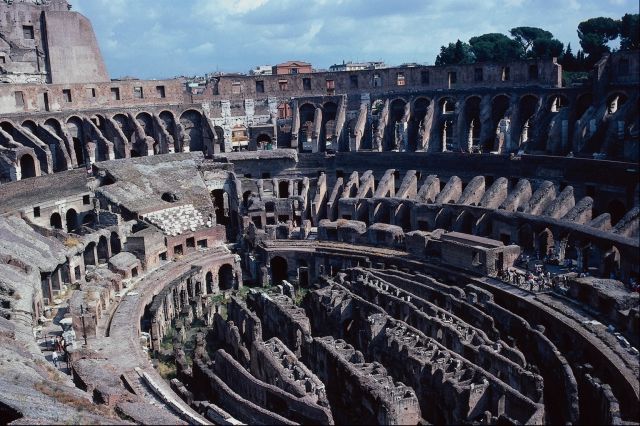 Ciao-Hello in Italian! I personally haven't been to Italy, but I know so many that have been here and a couple that graduated from UMM is currently there right now. I plan to put the info based on what I've heard from these folks as of Sunday, March 14th 2004.
With the current popularity of "The Passion", I decided to look more into the location of the filming...
(A) There were two main locations that THE PASSION was filmed. The crucifixion scenes were filmed in a beautiful city called Matera in the Basilicata area of Italy. The rest of the movie was filmed on a set built by Production designer Francesco Frigeri and decorator Carlo Gervasi; it is complete with a temple, courtyard, a Praetorium, Pilate's Palace and various smaller sets. -FAQ 2
---
Recommended Resources
GOOD NEWS

Local-GoodnewsMorris

Restaurants
Alimento italiano, ambiance viene a Morris (02/18/2006) Morris Sun Tribune
"Jason Mueller said cooking well is his passion, and area gourmands might be just as enthused that he will pursue his profession in Morris. Mueller and his wife, Candra Ruiz, expect to open their new Italian restaurant, Bello Cucina, by May 1. The restaurant will occupy space formerly home to Yeager's The Floor Store on Atlantic Avenue, just off Fifth Street. Mueller, formerly executive chef for Cafe Bella in Glenwood, said he will maintain the menu style and the dining experience he helped create there. "I did some research on the demographics of Morris, and I found there was a lot of fast food but not a lot of sit-down restaurants," Mueller said. "I want a place where you not only eat, but eat with your eyes and enjoy all the culinary experiences."
During his time at Cafe Bella, Mueller said he would visit with diners and heard a familiar refrain. "A lot of (Cafe Bella's) customer base came from Morris," Mueller said. "I'd be in the restaurant, talking with guests and a lot of them said, 'How come you don't open in Morris?' Everything fell in line."
Mueller moved often as the son of a father in the airline industry, and he graduated from St. John's Prep, in Collegeville, in 1989. After a stint in the Marines ended prematurely because of a broken ankle, Mueller moved to Rhode Island to enroll at Johnson & Wales University's College of Culinary Arts. Despite the training, Mueller started out working all manner of jobs in the food industry after his return to Minnesota in 1994. "(Culinary school) was quite an experience, but what I found out is that no matter what you do, the industry wants you to put the time in," Mueller said. "You still start out at the bottom and work your way up."
And, in the food industry, that often means working two jobs. Mueller worked in the Twin Cities at the California Cafe and Planet Hollywood at the Mall of America, and also plied his trade at the Decathlon Athletic Club in Bloomington, Sidney's and at hotels. "Most of my early career shaped up that way," said Mueller, who met his wife when they both worked at the Decathlon Athletic Club. "But it was good because I like to be well-rounded."
Mueller was working for the Doolittle's chain in Plymouth, and then moved to the area when Doolittle's opened in Alexandria. Mueller's grandparents lived in Glenwood and his parents were living there. The move also allowed Mueller to indulge his hobbies as an avid hunter and fisherman. Moving on to work at Cafe Bella allowed Mueller to develop a menu without a lot of corporate "red tape," he said. After Mueller helped the Cafe Bella ownership with the opening of the Lakeside Chop and Steak House, they parted ways, and Mueller soon began working on his Morris idea. Mueller had his building permit approved earlier this week, and the Morris City Council on Tuesday approved his liquor license application. Mueller and Ruiz now are in the process of renovating The Floor Store building. Once open, Mueller will run the kitchen, and Ruiz, with 12 years experience in the food industry, will take care of operations out front, he said. Mueller said he expects to hire between 16 and 20 full- and part-time employees once the restaurant is up and running. Until then, he's optimistic that a fairly busy opening night awaits. "I guess everywhere I go around town, people are excited," he said. "That makes me excited."

Sports


"The former Morris Area and North Dakota State star is learning about professional basketball in Europe and also planning a wedding....
It was only last spring when Winkelman was reveling in helping North Dakota State's men's basketball team reach its first NCAA tournament. Little did he know he would be playing basketball overseas for a salary of more than $70,000....
After leaving NDSU with an engineering degree and as the school's all-time leading rebounder and No. 2 all-time leading scorer, Winkelman signed his first professional contract with Edimes Pavia – a team that competes in the secondhighest professional league in Italy.
Just as he did at NDSU, the 6-foot-6, 220-pound Winkelman has made an immediate impact. He is the team's second-leading scorer, averaging 14.6 points per game. He's also pulling down 5.3 rebounds for a 3-9 team that currently sits in last place in its league.
"It's a very competitive league," Winkelman said. "The No. 1-ranked college team would have a tough time beating the best team in this league."
Winkelman is also adjusting to the European style of basketball: like the wider free-throw lane, the 24-second shot clock and the physical play....



Study Abroad

Italian Restaurant in Glenwood, MN
this is probably the closest to Italian food around Morris

State-GoodnewsMinnesota

It seem like when you think of Italy, one thinks of food! I went to a pizza place in St. Paul for my high school track&field end of the season banquet. It was called "Italian Oven", which I can just remember the food was gooood!

Restaurants

Nation-GoodnewsUSA

Government


"Italy became a nation-state in 1861 when the regional states of the peninsula, along with Sardinia and Sicily, were united under King Victor EMMANUEL II. An era of parliamentary government came to a close in the early 1920s when Benito MUSSOLINI established a Fascist dictatorship. His alliance with Nazi Germany led to Italy's defeat in World War II. A democratic republic replaced the monarchy in 1946 and economic revival followed. Italy was a charter member of NATO and the European Economic Community (EEC). It has been at the forefront of European economic and political unification, joining the Economic and Monetary Union in 1999. Persistent problems include illegal immigration, organized crime, corruption, high unemployment, sluggish economic growth, and the low incomes and technical standards of southern Italy compared with the prosperous north."

Movies

Miscelleanous


"Italy, slightly larger than Arizona, is a long peninsula shaped like a boot, surrounded on the west by the Tyrrhenian Sea and on the east by the Adriatic. It is bounded by France, Switzerland, Austria, and Slovenia to the north. The Apennine Mountains form the peninsula's backbone; the Alps form its northern boundary. The largest of its many northern lakes is Garda (143 sq mi; 370 sq km); the Po, its principal river, flows from the Alps on Italy's western border and crosses the Lombard plain to the Adriatic Sea. Several islands form part of Italy; the largest are Sicily (9,926 sq mi; 25,708 sq km) and Sardinia (9,301 sq mi; 24,090 sq km)."

Global-Multicultural

-Leonardo Da Vinci


JESUS IS LORD Milan,Italy

"Tri Meda"



*see Bible

Acts - Pt 07 of 22

Acts 10 Cornelius Calls for Peter
"At Caesarea there was a man named Cornelius, a centurion in what was known as the Italian Regiment. 2He and all his family were devout and God-fearing; he gave generously to those in need and prayed to God regularly. 3One day at about three in the afternoon he had a vision. He distinctly saw an angel of God, who came to him ...
The angel answered, "Your prayers and gifts to the poor have come up as a memorial offering before God. 5Now send men to Joppa to bring back a man named Simon who is called Peter....
Peter's Vision
" 9About noon the following day as they were on their journey and approaching the city, Peter went up on the roof to pray. 10He became hungry and wanted something to eat, and while the meal was being prepared, he fell into a trance. 11He saw heaven opened and something like a large sheet being let down to earth by its four corners. 12It contained all kinds of four-footed animals, as well as reptiles of the earth and birds of the air. 13Then a voice told him, "Get up, Peter. Kill and eat."
14"Surely not, Lord!" Peter replied. "I have never eaten anything impure or unclean."
*see GoodnewsEverybody.com Diet, Foods, Groceries, Beverage-Drinks, etc...
Acts - Pt 08 of 22

Peter at Cornelius' House
"8He said to them: You are well aware that it is against our law for a Jew to associate with a Gentile or visit him. But God has shown me that I should not call any man impure or unclean. 29So when I was sent for, I came without raising any objection. ...
God does not show favoritism 35but accepts men from every nation who fear him and do what is right. 36You know the message God sent to the people of Israel, telling the good news of peace through Jesus Christ, who is Lord of all. ..
44While Peter was still speaking these words, the Holy Spirit came on all who heard the message. 45The circumcised believers who had come with Peter were astonished that the gift of the Holy Spirit had been poured out even on the Gentiles. 46For they heard them speaking in tongues[b] and praising God.
Then Peter said, 47"Can anyone keep these people from being baptized with water? They have received the Holy Spirit just as we have." 48So he ordered that they be baptized in the name of Jesus Christ...
*see GoodnewsEverybody.com Church Services, Body of Believers, Family of Christ, Fellowship, etc...

Geography

Travel Guide -- Rome, Italy

"A quick look at the city of Rome, Italy, what to see and where to go if you are visiting. For more travel guides visit http://www.WatchMojo.com!

Geology


" L'AQUILA, Italy (CNN) -- Rescuers worked into the early morning hours Tuesday in hopes of finding survivors of a powerful earthquake that ripped through Italy's mountainous Abruzzo region, killing scores of people and leaving tens of thousands homeless.
Tearful survivors, many of them clad in pajamas and blankets, watched as bodies were pulled from the rubble in the medieval city of L'Aquila, about 120 km (75 miles) northeast of Rome. The quake killed more than 150 people, L'Aquila's fire department said late Monday.
Nearly 24 hours after the quake hit, authorities were still unsure how many people remained trapped in the wreckage.
"We think maybe 70 to 100," said Francesco Rocca, a spokesman for the Italian Red Cross. "We still don't know the exact number. This is why we are still working very, very hard at the moment."
Another body was found in the rubble of a student dormitory early Tuesday morning, and at least five other students were believed inside. But aftershocks hindered rescuers early Tuesday, and they have asked for additional equipment and expertise from Rome, authorities at the scene told CNN.
Italy's Civil Protection agency reported at least 1,500 injured and 50,000 without shelter.
"I can say there's hardly a building which was left without some sign of what has happened in the historical center of L'Aquila," Prime Minister Silvio Berlusconi said during a visit to the stricken region. "All the public buildings have been affected."
Berlusconi said 4,000 people were working on the rescue effort. Civil defense officials said they are prepared to house up to 30,000 people, but many of those displaced have gone to hotels.
Of the 150 dead, about 100 bodies have been identified, the officials said.
Monday's earthquake was about 10 kilometers (6.2 miles) deep, the USGS said.
About 10:20 p.m. (8:20 p.m. GMT) Sunday, a 4.6-magnitude earthquake hit northern Italy, about 55 km (35 miles) southeast of Bologna, the agency said. That earthquake's depth was 6.4 km (4 miles).
The quake is the deadliest to strike Italy in decades, and the first major temblor to strike the country in almost seven years. Joshua Brothers, an American missionary, told CNN that the quake "sounded as if a 747 (jet) was actually coming in to land."
"That was the first thing that was on my mind," he said.
The quake left stone buildings in heaps, with rubble spilling over parked cars and into alleyways. Frightened residents rushed into the streets, many of them bringing luggage with them, Brothers said. Photo See images of the destruction »
"If you look along the way, there are many palazzi that are cracked, walls have fallen in on some of them," he said. Video Watch Brothers describe devastation
L'Aquila's hospital was damaged as well, forcing doctors to evacuate the most seriously hurt. Agostino Miozzo, the director-general of Italy's Civil Protection agency, called it "a disaster on a huge scale." iReport.com: 'The house shook for such a long time'
The magnitude 6.3 earthquake struck at 3:32 a.m. (1:32 p.m. GMT Sunday), Italy's . Berlusconi declared a state of emergency and canceled a trip to Russia to oversee the rescue efforts. Three significant aftershocks -- ranging from magnitude 4.3 to 4.8 -- shook the area within six hours of the quake, unnerving residents further. See a map showing the epicenter »
The earthquake followed less than six hours after another quake hit the northern part of the country, the U.S. Geological Survey reported. Seismic activity is not uncommon in Italy, which is sandwiched between the European and African tectonic plates, and USGS geophysicist Amy Vaughan called the region geographically "complex." Learn more about how earthquakes are measured »
In 1997, an earthquake killed 10 people in the Umbria region, left tens of thousands homeless and seriously damaged monuments and artwork, including the town of Assisi's famed Basilica of St. Francis.
About 17 years before the Umbria quake, a 6.5-magnitude temblor in southern Italy killed 3,000 people, according to the USGS.
Pope Benedict XVI was praying for the "victims, especially the children," killed in Monday's quake, the Vatican said, according to Italian news agency ANSA"

-Volcano

Pompeii: The Mystery Of People Frozen In Time - History Documentary

"Published on Jun 25, 2013 Pompeii: The Mystery Of People Frozen In Time - History Documentary
In a one off landmark drama documentary for BBC One, Dr Margaret Mountford presents Pompeii: The Mystery Of The People Frozen In Time.
The city of Pompeii uniquely captures the public's imagination; in 79AD a legendary volcanic disaster left its citizens preserved in ashes to this very day. Yet no-one has been able to unravel the full story that is at the heart of our fascination: how did those bodies become frozen in time?
For the first time the BBC has been granted unique access to these strange, ghost-like body casts that populate the ruins and, using the latest forensic technology, the chance to peer beneath the surface of the plaster in order to rebuild the faces of two of the people who were killed in this terrible tragedy.
Margaret turns detective to tell a new story at the heart of one of history's most iconic moments; she looks at the unique set of circumstances that led to the remarkable preservation of the people of Pompeii. By applying modern day forensic analysis to this age-old mystery, Margaret dispels the myths surrounding the events in 79AD. She also explores the lives of the individuals who once lived in this vibrant and enigmatic city, as well as recreating the last moments of the people caught up in this tragedy. "



"... Mount Vesuvius, a volcano near the Bay of Naples in Italy, is hundreds of thousands of years old and has erupted more than 50 times. Its most famous eruption took place in the year 79 A.D., when the volcano buried the ancient Roman city of Pompeii under a thick carpet of volcanic ash. The dust "poured across the land" like a flood, one witness wrote, and shrouded the city in "a darkness…like the black of closed and unlighted rooms." Two thousand people died, and the city was abandoned for almost as many years. When a group of explorers rediscovered the site in 1748, they were surprised to find that–underneath a thick layer of dust and debris–Pompeii was mostly intact. The buildings, artifacts and skeletons left behind in the buried city have taught us a great deal about everyday life in the ancient world. ..

Gospel Resources


"...Throughout the history of Israel, the Jewish people were conquered and sent into exile several different times. While many of them had returned to Israel when the opportunity arose, many others stayed in the Gentile countries. But the forced exile of Jews was only a small part of the reason that Jews would have been scattered throughout much of the Roman Empire during the New Testament time. Other economic and political influences led to many other Jews leaving Israel/Palestine for more comfortable and profitable lands. ..

=>


"... About 40 years later, (32AD-70AD) and exactly as prophesied by Jesus Christ, the magnificent "Herod's Temple" was completely destroyed, leaving not one stone upon another. It was an event that marked the beginning of the long and arduous Jewish Diaspora. Yet, it was definitely an event foreseen in Bible prophecy. Jesus not only prophesied about the destruction of Jerusalem and its Holy Temple, but added the following statement: (Luke 21:24; and Jerusalem shall be trodden down of the Gentiles, until the times of the Gentiles be fulfilled.)..

-WWII

-Prophecy
Daniel 2 #4 The EU & Future Antichrist Nebuchadnezzar Dream

*see GoodnewsEverybody.com: LA- Archaeology, History, etc..., Caucasian-European Outreach, MiddleEastern Iraqi of Iraq, Babylon, etc... Outreach, GoodnewsEverybody.com Asian-Iranian "Persian" of Iran "Persia" Outreach ,European: Greece Outreach, Movies: The Passion, Crucification, Easter, Resurrection, etc.. , Ministry: End Times, Prophecy, Prophetic, Rapture, Tribulation, etc... => Repent & Ask for Forgiveness of sins

Language

Life

-Miracles
Miracles of the Cross of Italy

"Short video clip from Bob and Penny Lord's program on the miracles of the Cross of Italy. www.bobandpennylord.com"

Media

Hostiptality House News Clip in Italy

"The Cadence International "Hospitality House" in Vicenza Italy carries a special message for the deployed and returning soldiers. Check out a news story by American Forces Network (AFN) that profiles this unique way to serve."

-Wars
WWII
Battlefield I: " The Battle of Italy" 1/12

"Videos Running Time 01:54:00 in 12 Parts Battlefield I: " The Battle of Italy" 1/12 Excellent episode chronicling the invasion of Sicily and Italy. "
Battlefield II : " Monte Cassino " 9/11

"Italy --Italy Italy- -Italy- Tiger North Africa Rommel Tank German British Sherman World War II 88mm 75mm"
Indian Army in World War 2 - 1 of 3

"Indian Army in Italy "


Ministry

-Healing
Miracles, Italy Puglia Healing Miracle Service 07 part1

"Miracles Italy Puglia Healing Miracle Service Jesus Is Alive Signs and Wonders Healings"

Missions

Street Evangelism - Firenze, Italy, ecmna.rod

"Street Evangelism by Romanian Christian Youth in Firenze, Italy, October 2007 "


Movies


*saw this during Memorial Weekend (07') on Saturday, May 27th of 2007

Life Is Beautiful Trailer

"A Jewish man has a wonderful romance with the help of his humour, but must use that same quality to protect his son in a Nazi death camp."
*see GoodnewsEverybody.com: Middleeastern-Israelite of Israel

*saw this during Memorial Weekend (09') on Monday, May 25th of 2009

*see GoodnewsEverybody: African-American
Miracle at St. Anna - New Movie by Spike Lee (iHD)

"Directed by Spike Lee Written by James McBride
Miracle at St. Anna chronicles the story of four African-American soldiers who are members of the US Army as part of the all-black 92nd "Buffalo Soldier" Division that fought against the Fascists and Nazis in Italy during World War II.
They experience the tragedy and triumph of World War II as they find themselves trapped behind Nazi lines and separated from their Squad after one of them risks his life to save an orphan Italian boy.
Directed by Spike Lee from a screenplay written by James McBride, the author of the acclaimed novel of the same name, the film explores a deeply inspiring, powerful story drawn from history, that transcends national boundaries, language, race and class to touch the goodness within us all, the Human Race."
Spike Lee film angers Italy's surviving partisans Wednesday October 1 12:46 PM ET (movies.yahoo.com)
"Film director Spike Lee has set off a storm in Italy with a movie about black American soldiers fighting alongside Italian partisans in World War Two.
Surviving members of the resistance to the Nazi occupation of Italy have taken issue with "Miracle at St. Anna" ahead of the film's Italian release on Friday, distributing protest flyers and accusing Lee of distorting history.
Lee has said he wanted to set the record straight about the role played by black U.S. soldiers in the war. The film is based on a novel by James McBride and focuses on the all-black 92nd Buffalo Division which helped liberate Italy in 1944-45.
At the heart of the dispute is the film's depiction of an infamous 1944 massacre in the Tuscan town of Sant'Anna di Stazzema, where Nazi troops rounded up and killed 560 civilians.
In the film, the massacre is portrayed as a response to the actions of resistance fighters, with one of them betraying the town and colluding with the Nazis -- a version of events that has angered surviving partisans.
Lee, who is in Italy promoting the film, has responded to the criticism in his characteristically feisty manner.
"I would not allow anybody to tell me how to make a film, be it a partisan or the president of the United States," Lee told a news conference in Florence on Wednesday after a preview screening, according to Italian media.
"This simply shows that in Italy the wound is still open. ... It is up to Italians to come to grips with their past, not up to me or James McBride or the film," he said.
Members of the ANPI association of resistance fighters were not amused.
"For Spike Lee the partisans who 'hit and then ran away' were responsible for the Sant'Anna di Stazzema massacre," ANPI said on its website.
"Before shooting his film, the director should have read the truth about that horrible slaughter," it said, posting a copy of the 2005 verdict of an Italian military tribunal which convicted 10 ex-Nazi officers for the murders.
(Reporting by Silvia Aloisi)"
Miracle at St. Anna (2008) , from imdb.com
Miracle at St. Anna From Wikipedia, the free encyclopedia
"...The story is inspired by the August 1944 Sant'Anna di Stazzema massacre perpetrated by the Waffen-SS. There is also a reference to a sculpted head from Ponte Santa Trinita in Florence that acts as a Macguffin. The movie was shot in several location in the Valley of the River Serchio (Piano di Gioviano, initial battle scene) and in the villages of Colognora (near Pescaglia)and Colle and on Passo Croce (Apuan Alps). These localities are part of the Serchio River Valley, Garfagnana, and Apuan Alps scenic areas of the Privince of Lucca, Tuscany, Italy. Ref. Movie ending credits....
"And found a certain Jew named Aquila, born in Pontus, lately come from Italy, with his wife Priscilla; (because that Claudius had commanded all Jews to depart from Rome:) and came unto them."-Acts 18:2

*see Bible

Music

-Concerts
Delirious? Rome 2007 Italy

Michael w. Smith - Above All

"concerto a milano 15 ottobre 2007 in teatro!!!"

Sports


" Interviste televisive / Television interviews
- Articoli di giornali e riviste / Articles from newspapers and magazines
- Testimonianze / Testimonies
- Foto degli incontri / Photos from the meetings "
-Torino Winter Olympics 2006

-Basketball


" Non basta lo sguardo diverso e la voglia di credere all'impresa per Pavia, che si batte in difesa con una uomo prima e una zona 2-3 dopo, perché alla fine ... (ENGLISH)
Nuova Pallacanestro Pavia From Wikipedia, the free encyclopedia
".. is an Italian professional basketball team from the town of Pavia, also known for sponsorship reasons as Edimes Pavia.[1]
In 2007/08 season it will play in the Italian LegADue (also known as Serie A2, second division of Italian professional basketball).
It was established in 1997 and, in the past, due to sponsorship deals, has also been known as Sacil HLB Pavia (2001-02) [2] and Edimes Pavia (since 2002).[3][4][5][6][7]
In 1948-1958 and 1991-92, Pavia was represented in the Serie A by a different club, Pallacanestro Pavia. That club went bankrupt in 1995 and is currently defunct. Nuova Pallacanestro is commonly considered a successor to Pallacanestro.


City of Torino


Travel


-Attractions:
The Pantheon

"The Pantheon, former ancient Roman temple - now a Christian church in Rome, Italy."
Great Buildings
"The Pantheon is one of the great spiritual buildings of the world. It was built as a Roman temple and later consecrated as a Catholic Church. Its monumental porch originally faced a rectangular colonnaded temple courtyard and now enfronts the smaller Piazza della Rotonda. Through great bronze doors, one enters one great circular room. The interior volume is a cylinder above which rises the hemispherical dome. Opposite the door is a recessed semicircular apse, and on each side are three additional recesses, alternately rectangular and semicircular, separated from the space under the dome by paired monolithic columns. The only natural light enters through an unglazed oculus at the center of the dome and through the bronze doors to the portico. As the sun moves, striking patterns of light illuminate the walls and floors of porphyry, granite and yellow marbles."
Microstate of Malta
"Ashore on Malta
1Once safely on shore, we found out that the island was called Malta. 2The islanders showed us unusual kindness. They built a fire and welcomed us all because it was raining and cold. 3Paul gathered a pile of brushwood and, as he put it on the fire, a viper, driven out by the heat, fastened itself on his hand. 4When the islanders saw the snake hanging from his hand, they said to each other, "This man must be a murderer; for though he escaped from the sea, Justice has not allowed him to live." 5But Paul shook the snake off into the fire and suffered no ill effects. 6The people expected him to swell up or suddenly fall dead, but after waiting a long time and seeing nothing unusual happen to him, they changed their minds and said he was a god.
7There was an estate nearby that belonged to Publius, the chief official of the island. He welcomed us to his home and for three days entertained us hospitably. 8His father was sick in bed, suffering from fever and dysentery. Paul went in to see him and, after prayer, placed his hands on him and healed him. 9When this had happened, the rest of the sick on the island came and were cured. 10They honored us in many ways and when we were ready to sail, they furnished us with the supplies we needed."-Acts 28
Miscellanesous
"officially the Republic of Malta (Maltese: Repubblika ta' Malta), is a small and densely populated European microstate, comprising an archipelago of seven islands, making it an island nation. Situated in Southern Europe, 93 km (58 mi) off the coast of Sicily (Italy), it is located in the Mediterranean Sea, giving the country a warm, Mediterranean climate, while a further 288 km (179 mi) to the island's south is Libya.[2][3] The nation's capital city is the historic Valletta.
Throughout much of its history, Malta has been considered a crucial strategic location due in large part to its position in the Mediterranean Sea.[4] It was held by several ancient cultures including Sicilians, Romans, Phoenicians, Byzantines and others. The island is commonly associated with the Knights Hospitaller who ruled it. This, along with the historic Biblical shipwreck of St. Paul on the island, ingrained the strong Roman Catholic legacy which is still the official and most practiced religion in Malta today."
Tourism
Thank you for visiting GoodnewsEverybody! Please feel free to e-mail me (Sal) at goodnewsminnesota@yahoo.com on any comments, suggestions (e.g. any new websites),complaints, or anytype of feedback to improve this website or leave a comment on my blog



seekfind.org


*"...Seek and You'll Find..."- Matthew 7:7
---
GoodnewsEverybody: European Outreach